To increase autonomy, flexibility and production rate, Willemin-Macodel has developed a range of automation solutions from unloading of machined parts to multi-machine robotic cells.
The manipulator authorizes the loading and unloading of workpieces or pallets for small and medium part runs. It meets standard requirements without additional functions.
Robotic automation offers more possibilities: handling of pallets or fixtures, positioning and orientation of workpieces, cleaning and blowing of the workpiece and pallet set-down surface, and complete management of blanks, finished parts and scrap.
Willemin-Macodel automated robotic cells are available in various sizes with different degrees of complexity. They can be dedicated to a single machining center or integrated in a complete, flexible production cell which includes other processes in addition to machining (3D measurement of the machined part, monitoring, marking, etc.)
Automation at Willemin-Macodel
Benefiting from the latest technological developments and all of Willemin-Macodel's expertise in high-precision machining, these flexible automation solutions can be adapted to our entire range of machines.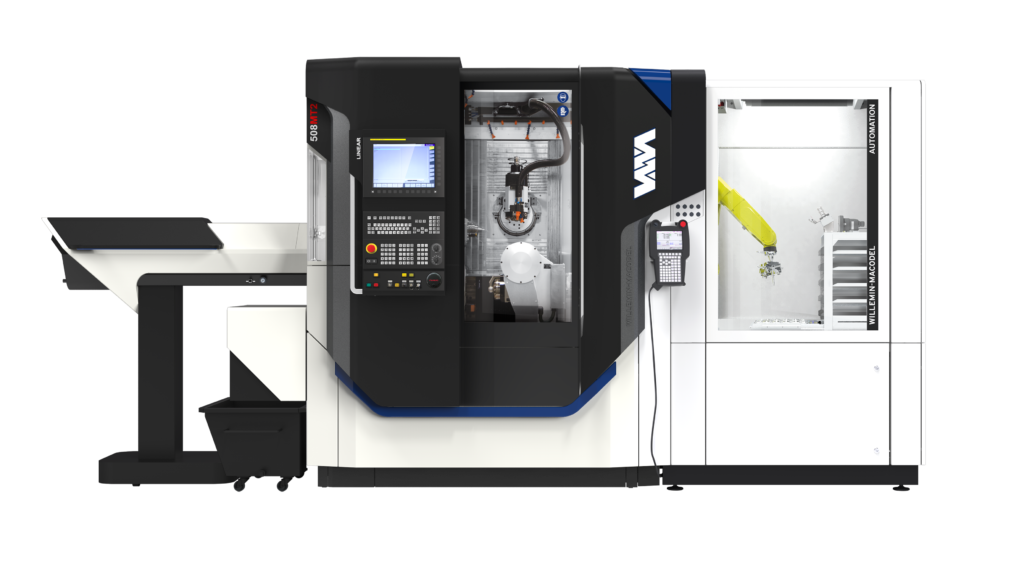 Manipulator / Poly-articuled robot
Manipulator
To increase the machine's autonomy during machining, Willemin-Macodel offers a manipulator arm for loading and unloading workpieces or pallets. This economical manipulator comprises a pneumatic longitudinal axis with 2 fixed positions. 0 ° – 90 ° gripper optional.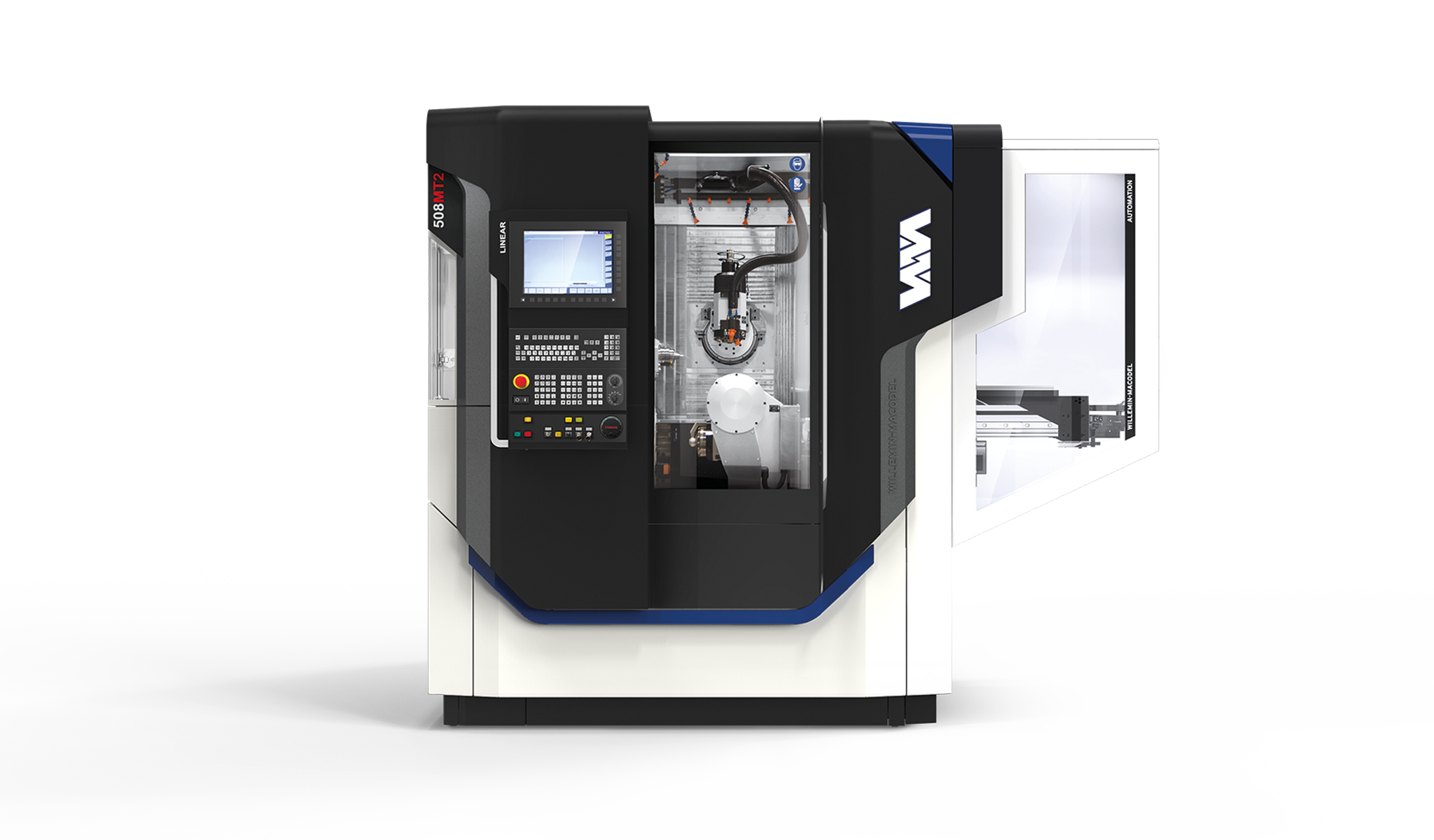 508MT2 machine and manipulator dimensions
| | |
| --- | --- |
| Length | 2615 mm |
| Depth | 2405 mm |
Manipulator characteristics (508)
| | |
| --- | --- |
| Dimension (l x w x h) | 910 x 750 x 1500 mm |
| Arm travel | 900 mm |
| Load capacity | 40 kg |
| Storage area | 400 x 200 mm |
308S2 machine and manipulator dimensions
| | |
| --- | --- |
| Length | 1910 mm |
| Depth | 1720 mm |
Manipulator characteristics (308)
| | |
| --- | --- |
| Dimension (l x w x h) | 720 x 620 x 1400 mm |
| Arm travel | 690 mm |
| Load capacity | 10 kg |
| Storage area | 240 x 135 mm |
Robotic cell
Integrating a poly-articulated robot in a machine facilitates the automation of blank loading and the unloading of machined workpieces on the specified storage racks. The handling of pre-assembled workpieces is also taken into account in the specially designed fixtures.
The robot offers maximum flexibility. It handles both workpieces and pallets equally well, guaranteeing excellent positioning accuracy and handling of workpieces.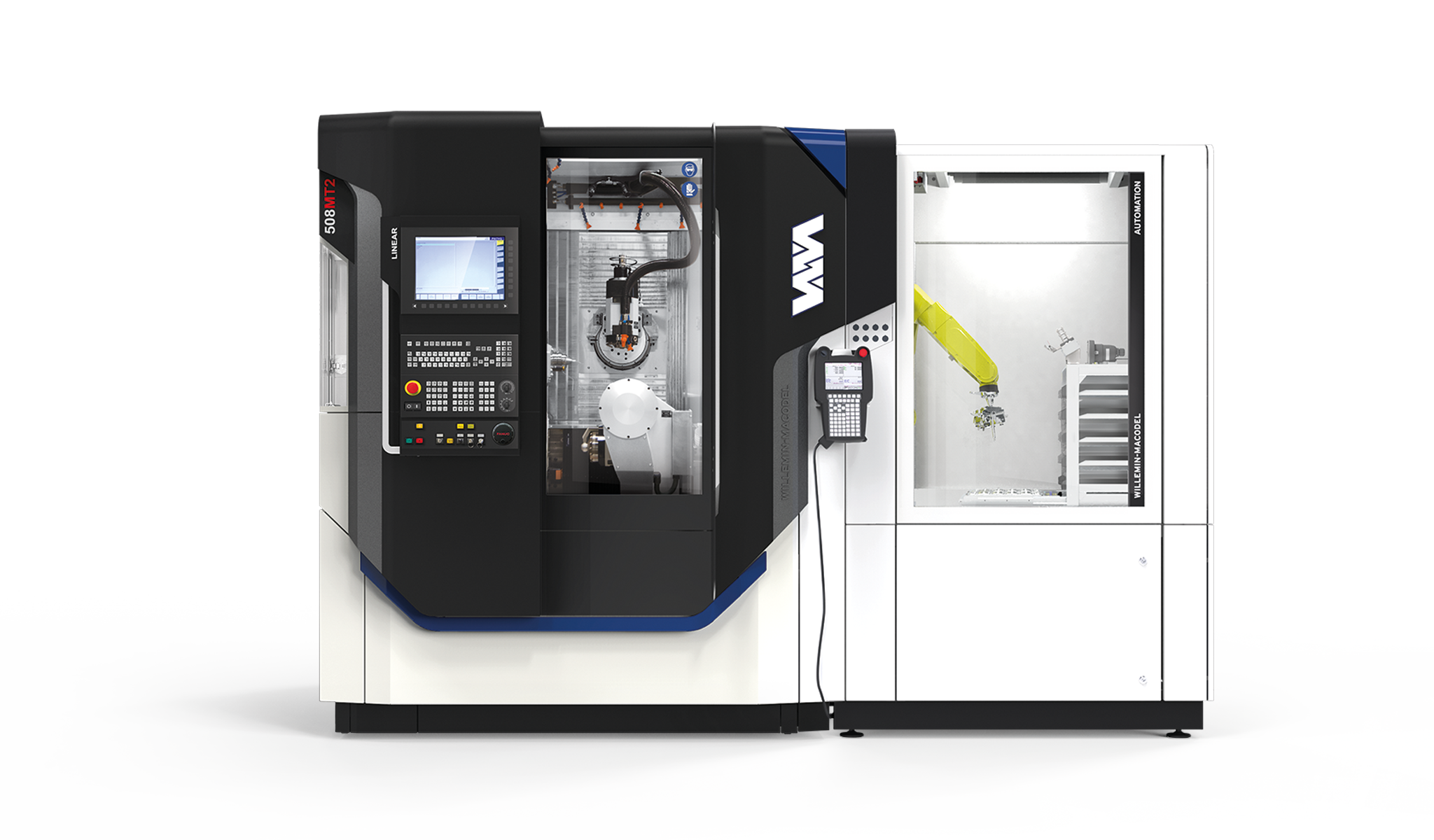 508MT2 machine and robot dimensions
| | |
| --- | --- |
| Length | 3192 mm |
| Depth | 2405 mm |
Robot cell characteristics
| | |
| --- | --- |
| Dimension (l x w x h) | 1320 x 770 x 2160 mm |
| Weight | 650 kg |
| Supply voltage | 400 V AC |
| Pneumatic | 6 bar |
| Compatible with Willemin-Macodel machine series | 30 / 40 / 50 / 70 |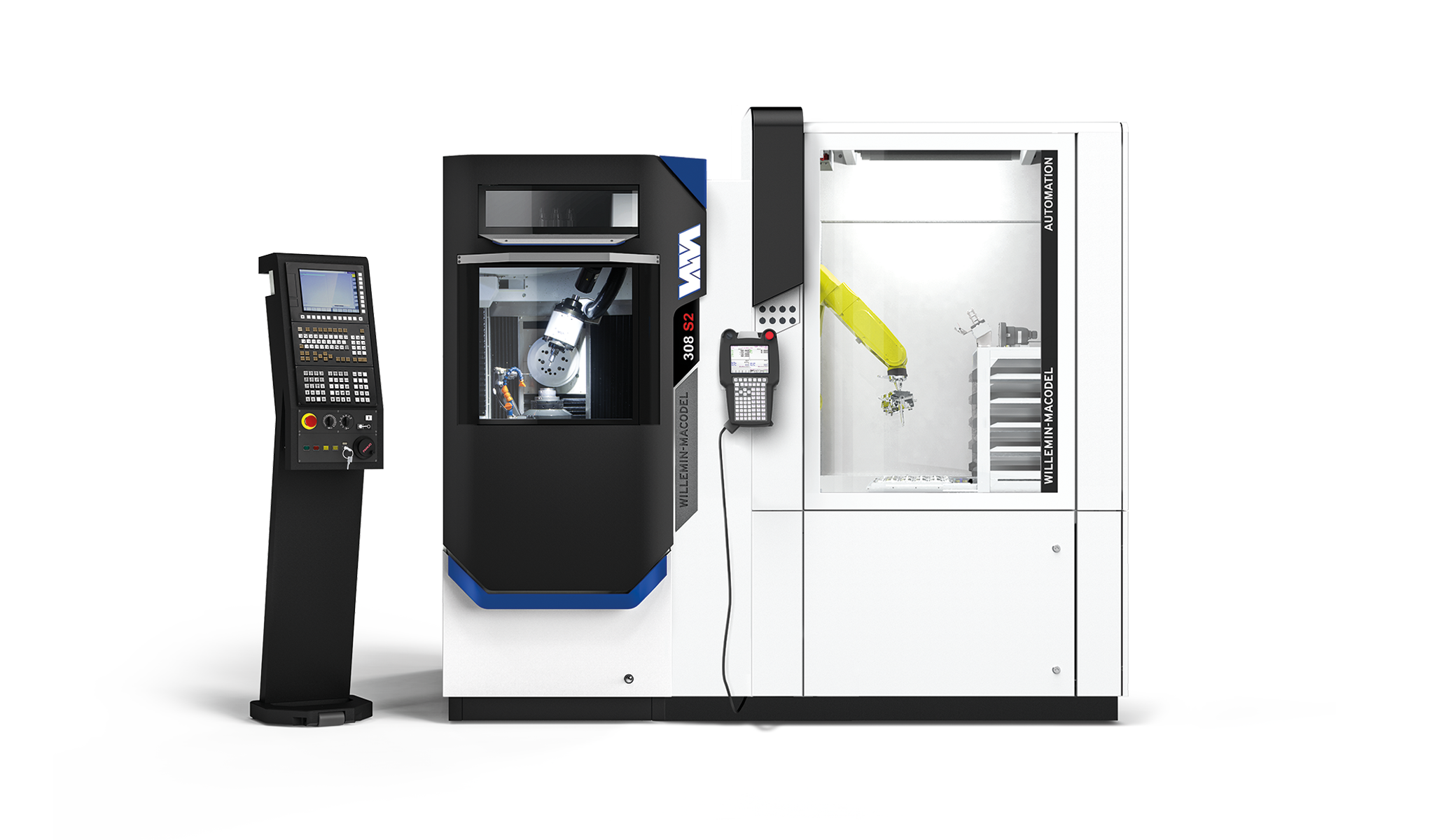 308S2 machine and robot dimensions
| | |
| --- | --- |
| Length | 2376 mm |
| Depth | 1782 mm |
Workpiece and fixture storage
| | |
| --- | --- |
| Capacity | Up to 6 drawers in A3 format |
| Load per drawer | 20 kg |
| Drawer actuation | Opening and closing of drawers by the robot |
Robotic cell for one machine
Robot cell for a plurality of machines
FLEXIBLE CELL
The flexible production cell is based on multiple production machines linked by a robotized system and an IT system, enabling the automated production of different types of workpieces, in variable quantities. The cell also enables other functions such as geometric acquisition of blank workpieces, monitoring of finished parts, cleaning/drying of machined parts, laser marking, etc.
This means the robotized system can not only feed the workpieces to the machines but also control automatic set-up changeovers. The flexible cell is designed to handle the production orders sequentially (in consecutive order). As such, there is only ever one production order, and therefore only one type of workpiece, being processed at a time. This simplifies the management model.
POSSIBLE FUNCTIONS
Flexible machining system (FMS)
Automatic loading of fixtures and workpieces into the machines
Complete workpiece machining
Deburring
Cleaning and drying
Measuring the workpiece on the 3D CMM machine
Identifying and laser-marking the workpiece
Placing the finished part in the storage system
EXAMPLE OF FLEXIBLE CELL
Advantages and flexibility of the robotization
Innovative functions and flexible application of robotization
One of Willemin-Macodel's strengths is the ability to provide solutions adapted to the morphology of the workpieces and the operating range.
4.0 intelligent automation and functions
Workpiece and fixture transfer, standalone solution
High operating autonomy
Increased production rate
Flexible solution
Compact model

Workpiece storage
For increased autonomy, the poly-articulated robot rationally manages the storage of blank and machined workpieces, generally in concurrent operation time.
Storage of machined workpieces in pallets, cups, baskets or a conveyor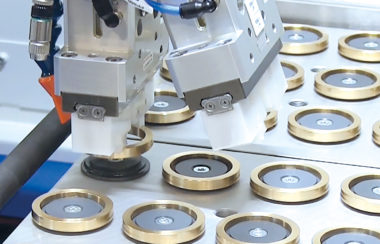 Workpiece storage defined by Willemin-Macodel or reuse of customer storage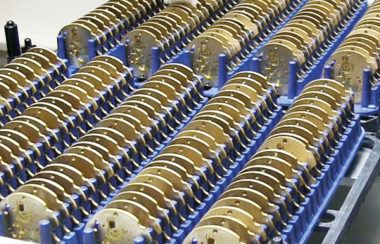 Storage capacity optimisation
Clamping changeover with GPS70 interface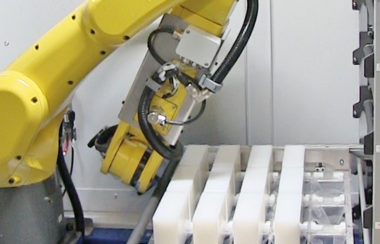 Interchangeable pallet for different production types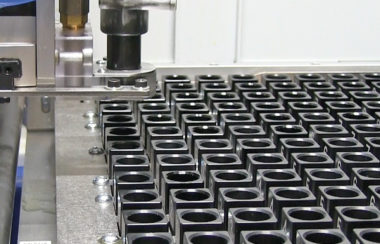 Single unit production and identification of finished part cups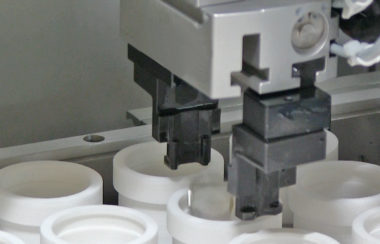 Production in batches stored in a single finished part cup
Production changeover
In the cell, the poly-articulated robot performs production and fixture changeovers without operator intervention.
Fixture changeover on divider with Yerly, GPS70, Hainbuch, 3R or EROWA type interface, etc.
Storage of fixtures in the robot zone
Storage drawers and rack adapted to the shape of the fixtures and pallets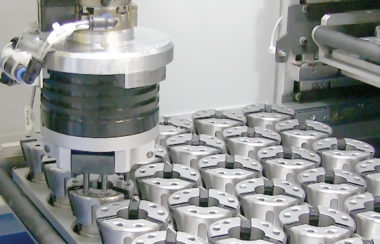 Clamping changeover on Hainbuch mandrel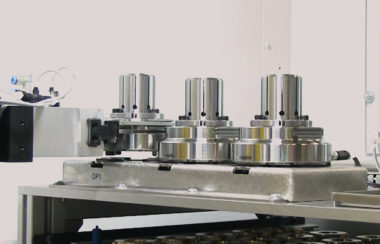 Clamping changeover with Yerly interface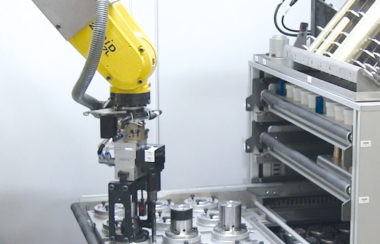 Clamping changeover with GPS70 interface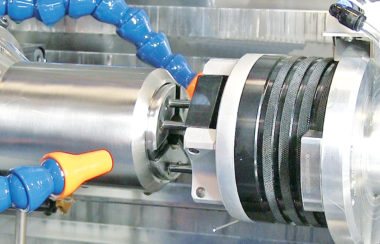 Hainbuch collet loading into A axis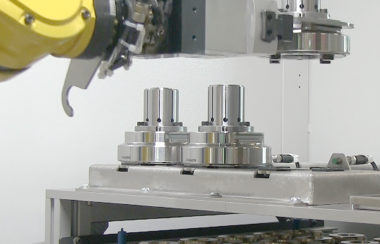 Ottet collet changeover on Yerly pallet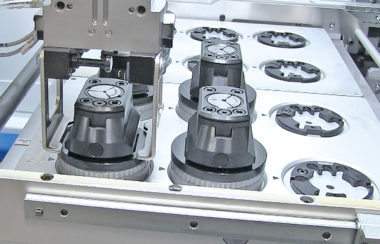 Clamping changeover on secondary operation station
Functions and peripherals
Willemin-Macodel offers functions that are easy to use and adapted to customer requirements
Specially developed peripherals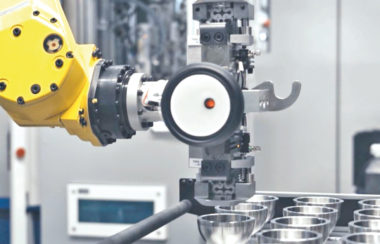 Vision station
Used to orient or monitor the workpiece before machining
Pre-centering station
Used to pre-center workpieces before loading in the clamping system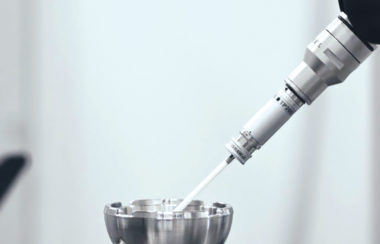 Measuring station
Used to check the size and shape of the workpiece before or after machining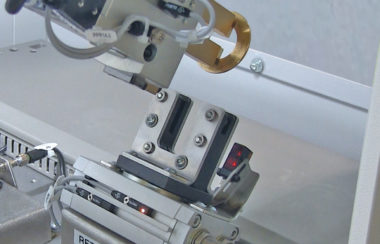 Workpiece turning station
Used to turn a workpiece in concurrent operation time to machine the second face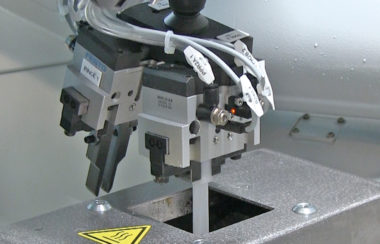 Cleaning station
Used to evacuate cutting oil and dry the machined workpiece before measurement or storage by the robot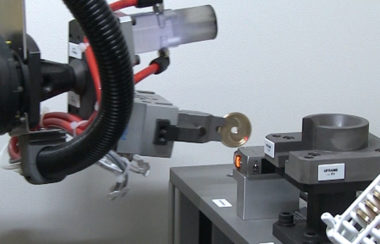 Workpiece detection station
Used to confirm the presence of the workpiece before or after unloading from the machine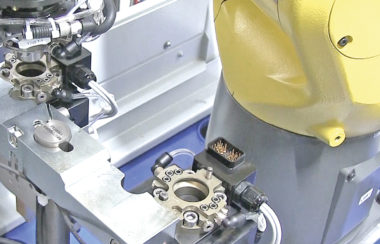 Gripper storage station
Enables the robot to change the gripper automatically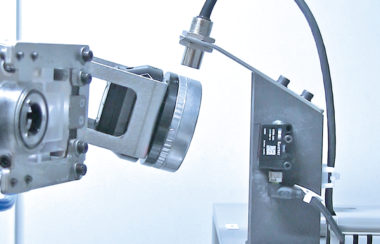 RFID identification station
Used to guarantee traceability of fixtures before loading into the machine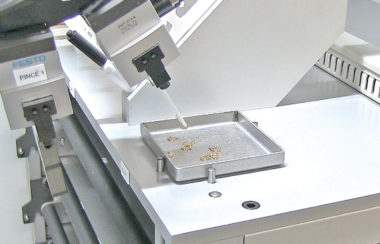 Part sampling station
Used to set down machined parts in a specific location and at a defined frequency for operator SPC monitoring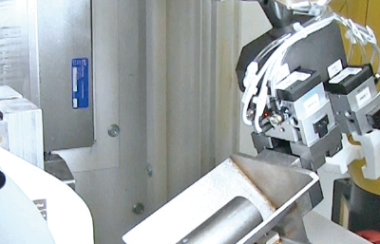 Scrap part unloading station
Permet d'écarter les pièces déclarées mauvaises par la machine ou les chutes de barre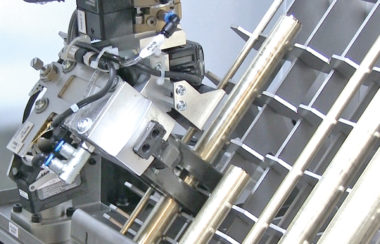 Material storage station
Used to set aside parts classed as defective by the machine or bar remnants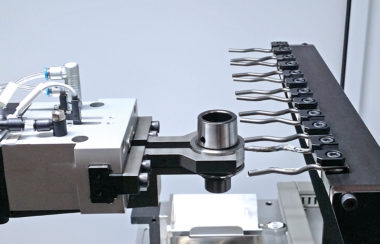 Tool storage stationde stockage outils
Enables the robot to supply the machine with raw material
Solution finder
To bring Willemin-Macodel's expertise to your next machining project, tell us about it by answering these questions.
Let's go!
TECHNICAL SUPPORT
We offer a personalized service – from the initial feasibility studies to supporting your machining centre over its life cycle.